Genuine Vintage Murray Pressed Steel Pedal Car Fire Truck Engine Co. 1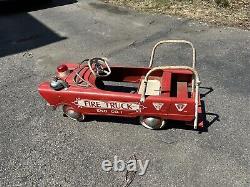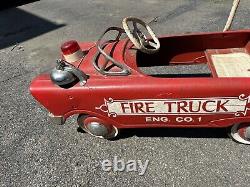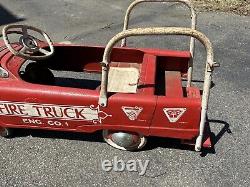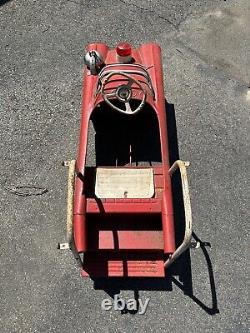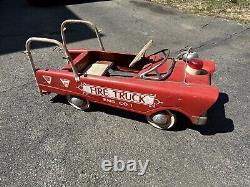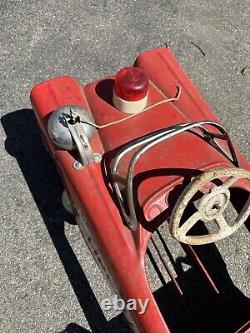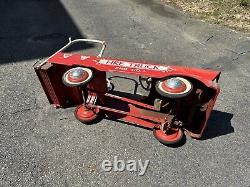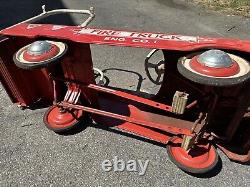 Genuine Vintage Murray Pressed Steel Pedal Car Fire Truck Engine Co. About the only thing I notice missing are the ladders which are easily replaced. Has normal age wear and a nice aged patina. The nut to hold the steering wheel tight on the post is missing. We are located just south of Boston MA.
Murray Ohio Manufacturing Company was founded in 1910, by J. Murray, in Detroit, Michigan until it moved to Cleveland, Ohio, in 1919. They original produced fenders, fuel tanks and other parts for automobiles. In the mid 1930s, the company began producing bicycles and pedal cars. Until 1939, Murray manufactured all its products for branding and sale by other manufacturers, like Sears and Roebuck & Co.
From 1939 through 1942, Murray made the body parts for the Crosley. After WWII, Murray moved to manufacturing inexpensive bicycles and pedal toys. In 1956, Murray moved its factory to Tennessee and over the next few decades, the Lawrenceburg facility grew to become one of the largest facilities of its type in the United States. In 1951 Murray's lead pedal vehicle was called the Champion.
Its design was based on the full-sized Studebaker Champion automobile. The early body style was referred to as the "Dip Side, " then in 1956, Murray produced a more sleek and smoother version, known as the Full Side. The early version is the most recognized of all the Murray models. Using the body styling of the new full-size Ford Fairlane as a guide, Murray introduced theFlat Face style pedal car in 1959. The Flat Face featured a dramatically different body style than that of Murray's successful Champion pedal cars, along with improved full-ball bearing wheels, bright paint and many accessories.
Versatility seemed to be the main reasoning behind the new styling, as minor paint and decal changes transformed the Flat Face again and again. A wide range of these cars emerged, including a Fire Chief, Radio Sports Car, Astronaut Car, Speedway Pace Car and Holiday Auto, just to mention a few.
Murray had the customer in mind when the V-Front box style pedal car was introduced in 1960. Offered as a more economical alternative to the Flat Face, the V-Front had the same versatility Murray had become known for, which gave us new models including a Tee Bird, Fire Chief and Fire Truck. Production of the V-Front ended in 1967 when Murray stamped out a new version of the box-style car called a Tooth Grille, which was offered until 1974.
Styling changes of the grille and front of the car were the only noticeable differences from the V-Front. Names like Charger, Pinto, Camaro, Firebird and Fire Chief were the most popular of the Tooth Grille series. An "off the beaten path" version of the Tooth Grille with an exposed plastic motor and more contemporary graphics, called the Fire Drag-on, came out in 1969.

---