Vintage 1995 Kenner NERF Crossbow + Arrows and crossbar! Orig. Owner! Nonfunct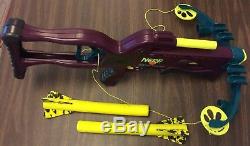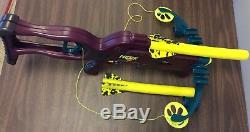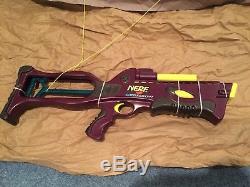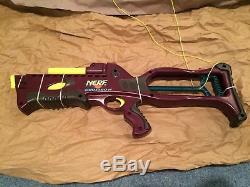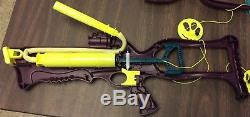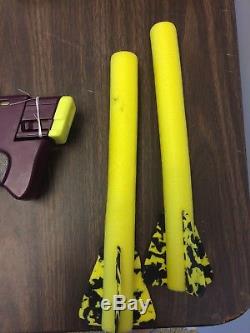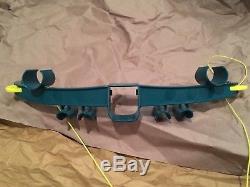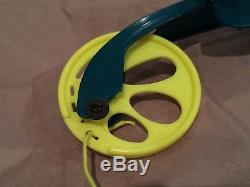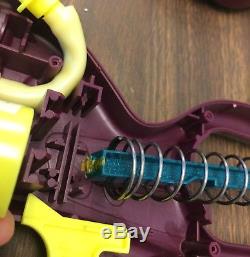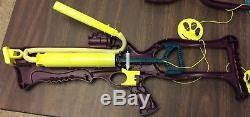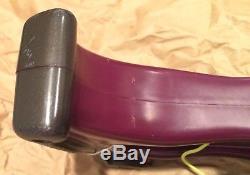 An ULTRA RARE, Highly Coveted Playroom Find! Perfect for an authentic restoration project. A mostly complete, used, 1995 Kenner NERF Crossbow. Still has its original arrows, AND the very hard to find green "Cross-bar".
Parts and accessories are missing! See below for a list of missing parts and a detailed description of the item's condition. Once upon a time, this baby was the pride and joy of my Nerf gun collection.
My parents bought it for me in 1995, and it dominated many a neighborhood nerf-war with its dual dart/arrow-firing capability yes, you seriously felt those things!! Years later, it was filed away in a tote box, only to be re-discovered, partially restored, and boxed-away until this Christmas. Loved and well cared for by myself- the single owner. Take one look at other authentic NERF crossbows for sale on the market, and you'll immediately notice three things that set this example apart. 1 Most are missing the green ammunition-storing "Cross-bar" (bow-shaped plastic part).
The majority of these broke with use. The cross bar on this gun survived! 2 Some don't even come with the extremely hard to find original yellow and black Arrows.
Sure, some crossbows come in working condition, but many are still missing the included accessory that MADE these guns what they were- Nerf's 11 Arrows. The two original arrows included here have all 3 fins attached and in-tact! Both are in very used condition (see pics).
Both are still functional, and slide onto the gun properly! As the crossbow was stored properly, and in a climate controlled closet, it still looks fantastic, 22 years later.
Both decals are still in very good condition (see pics). Only normal light wear and tear from use. This shell would make for a perfect restoration project, or other custom build!
This crossbow was last fired in 2010, whereupon the plunger handle snapped. The repair process was interrupted, whereupon all body screws, and the trigger return spring were lost. Combine this with the right working donor parts gun and/or some mechanical TLC, and you should arrive at a beautiful, complete and functional Nerf Crossbow! (you get the items pictured). What's Damaged/Broken: (See Pictures).
Plunger handle snapped at plunger piston. The epoxy you see there is where a simple repair failed to repair the piston. Plunger needs a new part, or more robust repair work. Some small scuffs, scratches and body damage (pictures don't cover all, but give good examples). Overall, body still looks good. One tip of green cross-bar is partially broken where a retaining screw attaches. Crack around the screw-boss of one yellow cam disk. Bowstring elastic band has deteriorated.
Fins are bent with a spiral pattern. Bodies are bent, creased, dented and scuffed. Very well used, but functional. I strive to provide the most accurate and complete description of the item as reasonably possible. However, I'm no expert on Nerf guns.
The above description is only my best guess, based on: a visual inspection, comparison with other examples, and general mechanical knowledge. You get no guarantee that other parts aren't missing or damaged. Over-packed to protect the aesthetics of this collectible item. If any damage is found to the item, please contact me as soon as possible (within 2 days of receiving the package). For obviously/heavily damaged containers: Please take a few photos of the container and item before opening the package.
Please take your time to understand and familiarize yourself with this listing before purchasing. Please do not hesitate to ask me any questions you may have about the item. Looking forward to serving you as one of my first customers! My hope is to pass on these epic, useful and collectible items to a loving home.
In all things, I desire to lead a. 1 John 2:6 life. There is a worthy ethos in re-using and repairing high-quality material goods. Together, we can help to preserve a piece of history, and pass on a cleaner world. Please, do not hesitate to contact me with any questions or concerns!
Thanks for shopping with me! The item "Vintage 1995 Kenner NERF Crossbow + Arrows and crossbar! Nonfunct" is in sale since Monday, December 25, 2017. This item is in the category "Toys & Hobbies\Outdoor Toys & Structures\Dart Guns & Soft Darts". The seller is "someepicstuff" and is located in Raleigh, North Carolina. This item can be shipped to United States.

---